Plastics are part of our daily life, and they are valuable. At Chevron Phillips Chemical, we care about the products we make and their proper disposal. It's important for our employees, customers, communities and the next generation to know that plastics offer many sustainable advantages compared to other materials.
---
Sustainability Initiatives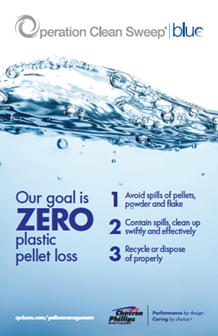 Operation Clean Sweep®
We have long supported Operation Clean Sweep® (OCS®), a product stewardship program of the American Chemistry Council's Plastics Division and Plastics Industry Association, with the goal of achieving zero pellet and flake loss to the environment. The OCS® program has been in our company for more than 20 years and has become part of our operating philosophy.
On April 3, 2019, we announced that we are enhancing our sustainability efforts to eliminate plastic pellet spills by becoming a member of Operation Clean Sweep® Blue (OCS® Blue), an even more rigorous commitment than OCS®.
Ensuring that valuable plastic pellets do not leak into the environment is not only the right thing to do, but crucial for the plastic industry. At Chevron Phillips Chemical, we have made efforts to share best practices of pellet management with service providers and other companies within industry. In 2016, members of our team even participated in an Operation Clean Sweep® video that details measures we, along with other companies in the plastics industry, are taking to ensure that pellet, flake and powder loss doesn't end up in the marine environment.
Alliance to End Plastic Waste
In 2019, we became one of the founding members of the Alliance to End Plastic Waste, an unprecedented non-profit organization committed to reducing plastic waste globally and developing programs promoting reusing and recycling in regions suffering most from plastic waste.
Circulate Capital Ocean Fund
More recently, we reinforced our commitment to environmental stewardship by making a $15 million investment in the Circulate Capital Ocean Fund (CCOF). This is the world's first investment fund dedicated to incubating and financing companies and infrastructure that prevent ocean plastic in South and Southeast Asia. Our company has a vision to help create a fully circular economy where every piece of post-consumer plastic ends up where it should be, finding new uses through recycling, reuse or repurposing.
---
Results
We have four plastic production facilities in the United States: Pasadena, Baytown, Orange and Old Ocean, Texas, with a total production capacity of 7.525 billion pounds. In 2018, 31.5 million pounds of pellets and flake were recycled from our facilities through our efforts. Less than four pounds of pellets were released into the environment from our facilities.
For more information about the initiatives we support, please visit our News and Sustainability pages.
---
Education
We also want to educate people about what we're doing to further our worldwide sustainability efforts. We developed our Product Ambassador Toolkit: Plastics and You. This set of materials includes one-page handouts tailored to U.S. and international audiences. It is designed to provide facts about the value plastics bring to modern society and their sustainability benefits, an overview of how Chevron Phillips Chemical is addressing issues like plastic in the ocean and fun graphics to engage both adults and kids. Click here to discover our toolkit.