---
Core Competencies
H2S and derivative chemistry
Specialty hydrocarbons and fuel blending
Guaranteed byproduct stewardship
Application development, i.e., catalysts, odorants
---
Custom Services
Organosulfur Chemistry
Our many years of experience in sulfur chemicals enable us to develop second-generation products and functional thiols through the reaction of hydrogen sulfide with olefins, halides, alcohols, silanes or epoxides. Many of these products can then be further derivatized to yield specialty organosulfur chemicals such as alkylsulfonic acids and sulfonyl halides; sulfides, disulfides and polysulfides; and sulfoxides and sulfones. Mercaptans containing specific functional groups can also be formed through the use of functionalized olefins containing groups such as esters and ethers.
Our strategic location adjacent to the Phillips 66 Refinery in Borger, Texas, translates to a reliable source of raw materials. We also have manufacturing facilities in Tessenderlo, Belgium, giving us good production flexibility and geographic coverage. We routinely manufacture a range of organosulfur products, so you can benefit from our knowledge of organosulfur and H2S handling as well as by product stewardship.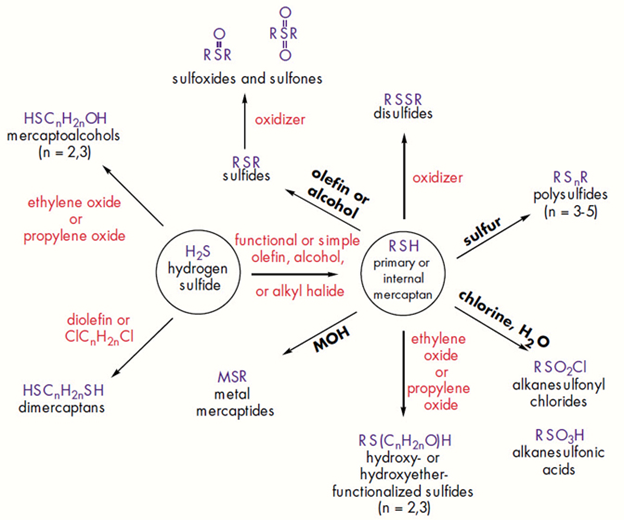 ---
Custom Processing and Fuel Formulation
We have the capability to supply test fuels for your specific requirements. If you are doing octane number requirement testing or need volatility test fuels for hot fuels handling, we have what you need. Chevron Phillips Chemical has been recognized as the leader in the formulation of special fuels. We have supplied fuels to many facets of government, industry and technical associations.
Products can be manufactured to meet strict specifications such as purity, sulfur content, lead content, specific gravity, distillation, and octane or cetane number.
The following will give you some examples of the types of specifications you can request for a special fuel:
BTU content
V/L values
Oxygen content and type
Lead content
Composition by hydrocarbon type or elemental analysis
Vapor pressure (volatility)
Cloud and pour point
Distillation range
Octane or cetane numbers
In addition, fuels can be blended to meet military specifications or other recognized requirements.
Let Chevron Phillips Chemical make your blend if you are faced with:
Inadequate or unavailable blending facilities
Lack of feedstocks
Inexperience in blending fuels
Lack of fuel testing facilities
Limitations on the amount of fuel you can store
Needing an MSDS
Needing a certification sheet
---
Made-to-Order Test Fuels
In order to serve you more efficiently and comply with our ISO-9001 procedures, we must document the specifications on all non-standard product requests. The process is described below.
If you haven't ordered from us before, you must complete the New Customer Profile and Information Packet.
If you already have written specifications, please click on the Contact Us link on the menu bar to the left side of the page. Click on the Request for Information form link and fill out your name, phone number and e-mail address, and add "Please call for written fuel specification" to the Comments section. Your sales representative will contact you to discuss the order.
If you don't already have written specifications, choose the appropriate form for the desired fuel type from the list below. Complete the form by providing minimum and maximum values or report only values for the desired parameters. No test will be run or additive used unless requested.
We will confirm receipt of your specifications. If you do not have confirmation within three working days, please call Customer Service at +1-800-858-4327.
If we cannot produce the fuel, you will be notified as soon as this is determined.
Upon confirming the fuel can be produced, a written quote with earliest availability and pricing will be provided by our Sales and Customer Service.
Orders can be placed or project updates can be obtained by contacting Customer Service at +1-800-858-4327.
We appreciate the opportunity to meet a portion of your test fuel requirements.
---
Test Fuel Request Forms