---
What are Chevron Phillips Chemical Orfom® Mining Depressants?
Orfom® D8 Depressant (di-Sodium Carboxymethyl-tri-thiocarbonate) is a water soluble product useful
for selective depression of various mineral sulfides during the flotation process of chalcocite, molybdenite and other sulfide ores. This product is most effective in depressing iron as Pyrite and chalcopyrite, and lead as galena, in primary and by-product molybdenite flotation circuits.
---
Benefits
Orfom® D8 Depressant is offered as a 38 percent Aqueous solution to maximize safety and minimize handling issues associated with alternative reagent preparation. This product is very effective in depressing iron and lead minerals when added to the secondary grinding stage or cleaner circuit. The Orfom® D8 is effective in basic and acid pH ranges. It is also used in addition to Nokes reagent to reduce its total dosage rate. The Orfom® D8 Depressant is also less odorous than sodium hydrosulfide and Nokes, and significantly less toxic than most traditional depressants.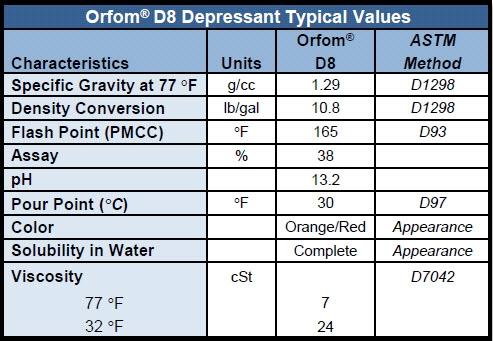 ---
Application Guidelines
Orfom® D8 Depressant dosage should be 5 g/ton (0.01lb/ton) to 25 g/ton (0.05 lb/ton) when added to the grinding mills or conditioner. In the cleaner circuits, the dosage rates should be increased to 25 g/ton (0.05 lb/ton) to 500 g/ton (1 lb/ton) of concentrate to make final grade.
---
Container & Logistics Offering
Container Type
Package: Drum (~54 gal) & IBC (~275 gal)
Bulk: Cargo Tank, Iso-container, Railcar
---
Container Type
Package: Borger, Texas
Bulk: Borger, Texas
---
Order Placement