Chevron Phillips Chemical recognizes that plastics are a part of the sustainable solution; however, plastic pellets, powder and flakes in the environment are a critical issue. If not handled properly, spilled pellets can end up in local waterways and eventually the ocean where they can pose a risk to marine life.
We  recognize the importance of taking measures to help ensure these valuable resources do not end up in the environment. We also realize that, in addition to our own measures,customers and service providers play a key role in ensuring that plastics are not lost to the environment.
As part of our plastics management programs, we are dedicated to increasing our involvement with our value chain to ensure that valuable plastic materials are kept where they belong. Learn more about what we are doing to eliminate pellet and flake loss to the environment.

View our plastic management best practices.
---
"Simply put, plastics should not end up in unintended places in our environment. We are very proud of our track record and commitment to sustainability programs. We are always seeking ways to improve our results and joining Operation Clean Sweep® Blue is yet another significant step as our company and our industry work to eliminate plastic waste from finding its way into unintended places. We are pleased that the procedures and safeguards we have put into place at all facilities are working effectively to minimize and eliminate pellet spills and are confident that the numbers reported in our sustainability report will confirm the success of these initiatives."

— Benny Mermans, Vice President, Sustainability, Chevron Phillips Chemical Company
---
Our Commitments Around the World
In 2019, we  became a member of Operation Clean Sweep® Blue (OCS® Blue). OCS® is a product stewardship program of the American Chemistry Council's Plastics Division and Plastics Industry Association with the goal of achieving zero pellet and flake loss to the environment. OCS® Blue represents an even more rigorous commitment than OCS®, which the company has been a member of since its inception in 2000. In 2018, we committed to OCS® in Europe covering our sale and distribution activities of Polyethylene pellets throughout the European region. In 2019, we worked with the Singapore Chemical Industry Council to adopt OCS® in Singapore and were one of the first companies to commit to the new regional program. As OCS® programs expand across the world, we are committed to being a leader in advancing efforts to end plastic pellet pollution. 
---
Details of our Internal Program
We operate four plastic production facilities in the United States in Pasadena, Baytown, Orange and Old Ocean, Texas. We also participate in the operation of joint venture operations in Singapore and the Middle East to produce plastics. In addition to these operations, we sell and distribute to customers in over 140 countries around the world.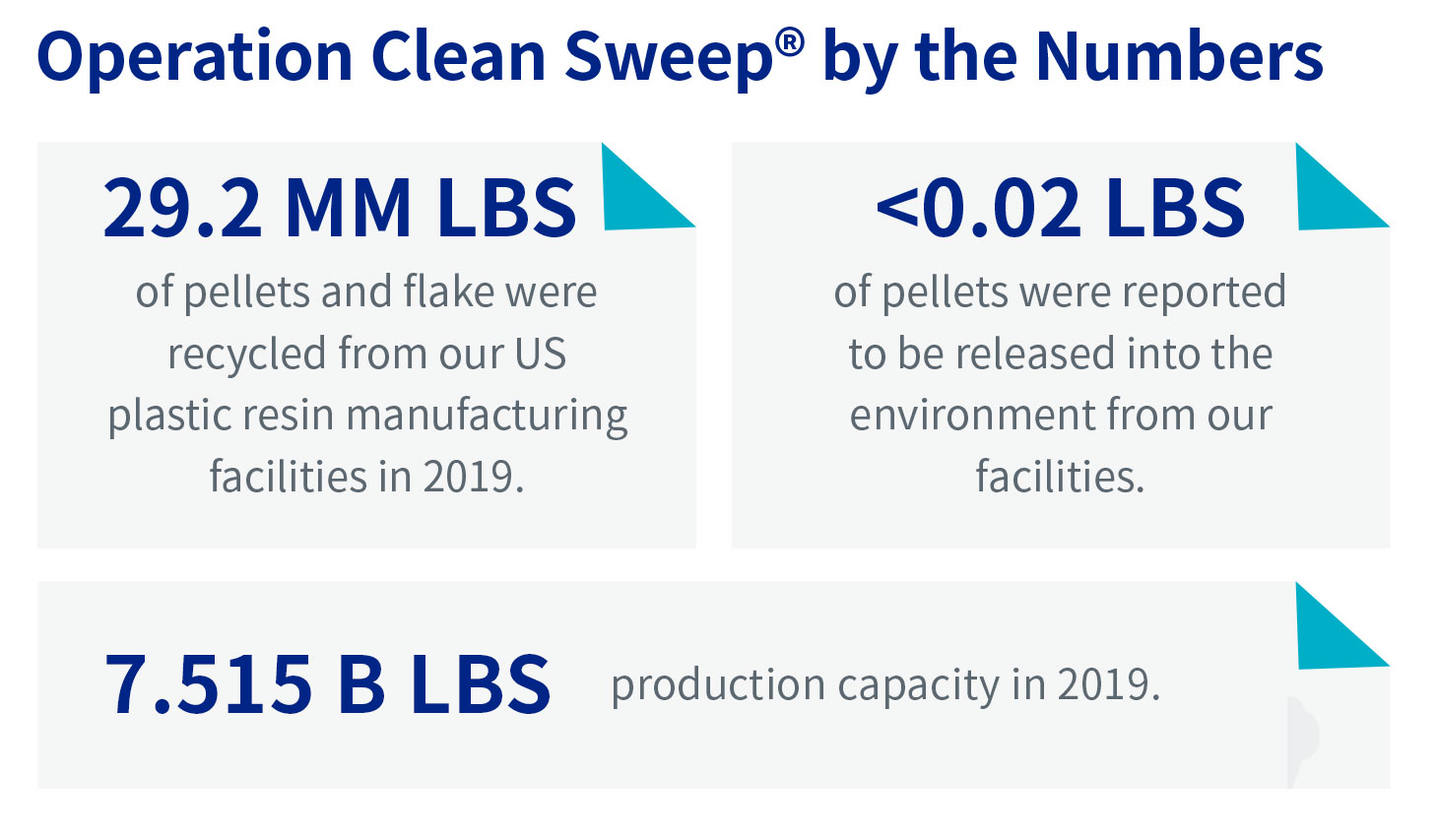 As part of our commitment to transparently communicate our pellet management practices, we have elected to publicly share data on production capacities, pellet recycling efforts and pellet releases which we began publishing in 2019. Visit our 2019 Sustainability Report to learn more about our pellet management. 
Considering OCS® has been in our company for more than 20 years, it has become part of our operating philosophy.  Additionally, as part of our global commitments we have made key changes to enhance our internal program:
Deploying pellet and flake best practice teams to identify opportunities for continuous improvement
Embedding specific pellet management language into our Operational Excellence documents and publishing internal guidance documents and expectations on pellet management activities 
Development of OCS®-specific training materials for employees and contractors working in our plastic production and handling facilities
Performance of regular site assessments to ensure effectiveness of pellet and flake management programs

Download Operation Clean Sweep Site Assessment Example
Our program will be self-audited internally and our management systems will be audited through our Operational Excellence audit process as well as 3rd party Responsible Care Audit processes on their regular frequency.
---
Engaging our Value Chain
The largest volume of our plastic pellet product is shipped to our customers via rail in hopper cars. We also ship product in bulk trucks, sea bulk containers, Gaylord boxes or 25kg bags. We encourage our customers and service providers to implement pellet management practices that ensure zero pellet loss to the environment. Below are examples of our actions with our value chain:
Including of pellet management questions in our audit protocol of the warehouses and terminals where we operate.
Informing customers about OCS® and pellet management best practices through direct letters  and other communications. 
Began tracking all rail-cars returned without caps to prevent loss of material during transportation and communicating to customers the importance of keeping caps on
Encouraging other member companies to pledge OCS® Blue via the OCS Newsletter.
Placing OCS® tip stickers on railcars that inform customers and service providers of pellet management best practices.
To see some of our company's pellet management best practices, visit this page. 
---