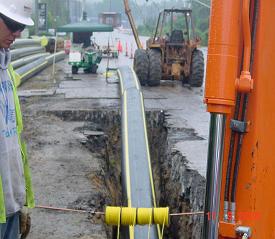 After more than 60 years of service, it was time to retire the 19,000 feet of 24-inch cast iron pipe carrying natural gas through Kansas City, Missouri.
With a proven record of success using several thousand miles of underground plastic pipe, Missouri Gas Energy knew that high density polyethylene (HDPE) pipe was the best choice for the project. The only question was how large it needed to be.
"We first looked at 16-inch diameter HDPE pipe," said David Glass, Director of Engineering and Technology for Missouri Gas Energy. "We had great success with it for a replacement project completed twenty years ago, and plastic pipe is significantly less expensive than steel."
Missouri Gas Energy needed the pipe to carry 58 psi of pressure and a flow rate of 2,200 thousand cubic feet per hour (MCFH). A 16-inch pipe, however, would not meet the requirements. For their specifications, 20-inch SDR 15.5 high density pipe was needed, which prior to this project, had not been used in a gas distribution pipeline.
"To us, 20-inch diameter pipe wasn't much different from 16-inch pipe. We just needed someone to make it," said Glass. Missouri Gas Energy asked Performance Pipe, a division of Chevron Phillips Chemical Company LP, to produce the 20-inch diameter gas pipe. Performance Pipe made both the 20-inch SDR 15.5 high density pipe for the pipeline and 20-inch SDR 11.0 pipe for its fittings.
By choosing HDPE pipe, Missouri Gas Energy was able to insert the new pipe into the existing cast iron pipeline. The flexibility of the pipe meant less excavation was necessary. In fact, rather than continuous trenches, Missouri Gas only needed a 50 to 100 foot long pit every 1000 to 1500 feet. They were able to pull the new pipe underground from one pit to the next. This was a major advantage for the HDPE pipe because the old pipeline ran underneath major roads to supply gas to established residential neighborhoods. The less excavation required, the better.
Performance Pipe provided the HDPE pipe in end-capped 50-foot sections, which were fused together on-site. Missouri Gas Energy opted to install double-jointed pipe by fusing two 50-foot sections together, then pulling the 100 feet through the hole before fusing it to another double-jointed section. The longest piece of pipeline pulled through the hole was 1500 feet. With 19,000 feet of pipe, approximately 380 fusions were made altogether.
"One of the benefits of HDPE pipe is the field proven integrity of the fusion process," said Mary Lee McDonald, territory manager for Performance Pipe. "The project began in the fall with temperatures in the 50s and 60s, but by the time it was completed at the end of January, the weather was dipping below freezing temperatures."
Despite the weather fluctuations, the project stayed on track. "We lost a few days to snow, but overall, we didn't experience any project delays once we began work," said Glass.
The project was not without its challenges, however. One of the challenges was finding a manufacturer to fabricate 20-inch fittings. With the unique requirements of the Kansas City project, Missouri Gas Energy needed 26 fabricated fittings – including 45 and 90 and degree els and transition fittings. They identified Central Plastics as the fabricated fitting manufacturer who used Performance Pipe's 20-inch SDR 11.0 pipe to make the fittings.
While the 20-inch SDR 11.0 pipe was the first pipe of this size and thickness for a gas distribution line in the U.S., Performance Pipe's experience with large diameter, heavy wall pipe extrusion proved invaluable in being able to supply Missouri Gas Energy's needs. Performance Pipe made 200 feet of the 20-inch SDR 11.0 for the fittings, then 19,000 feet of 20-inch SDR 15.5 high density pipe for the pipeline. To meet the time restraints of the project, the pipe was manufactured at two separate Performance Pipe facilities.
"We faced the challenges of the project head-on and relied on the teamwork established during our 20-year relationship with Missouri Gas Energy to find solutions," said McDonald. "The finished product opens doors for gas companies everywhere."
"Despite the fact that 20-inch diameter pipe had never been used in gas distribution, the Kansas City project was very straight-forward," said Glass. "To us, it was a natural choice based on the project's requirements, and quite frankly, just a bigger and longer version of what we did 20 years ago," he added.