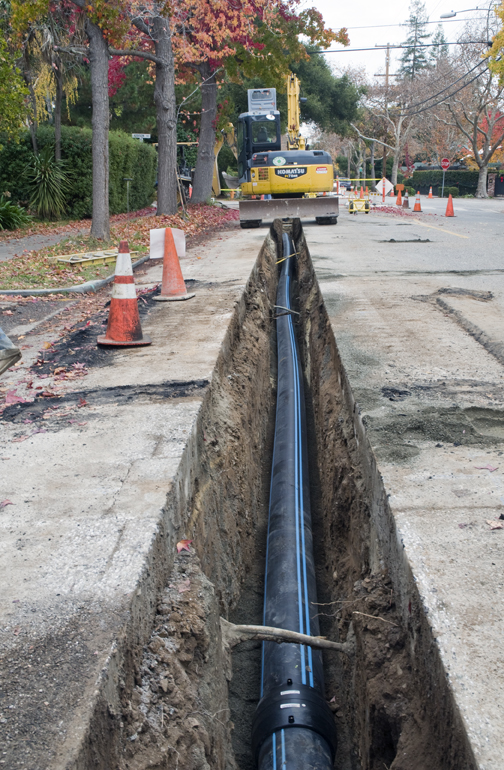 The Project
The City of Palo Alto used HDPE for the first time in 2008 to rehabilitate their aging water distribution system. By replacing pipelines and expanding the current infrastructure, the City of Palo Alto could provide a leak-free water system with additional capacity. Each year, the city replaces an average of three miles of their water system as portions of the pipelines reach the end of their useful lives.
---
The Specifications
For the expansion and replacement of the system, Performance Pipe provided 33,500 feet of 8-12 inch mains. The city decided to use HDPE as the replacement material because of their previous successes with polyethylene in their gas distribution system and the durability of the material. The pipe would be installed using a combination of open cut and horizontal directional drilling (HDD) methods.
---
The Solution
Performance Pipe manufactured the necessary 8-, 10- and 12-inch high density pipe for the pipeline project. The city, because of its experience with using polyethylene in its gas distribution system, was looking forward to the opportunity to install a fused system using HDD construction techniques. "We have enjoyed extremely good performance from polyethylene in our gas system to date," Greg Scoby, engineering manager with the City of Palo Alto Utilities Department, said. "In a recent leak survey of the entire gas system we found zero leaks on PE mains." By choosing HDPE pipe, Palo Alto was able to increase the strength of the system, reduce the possibility of leaking at joints, and limit future maintenance activity while reducing installed cost by utilizing HDD.
---
The Satisfied Customer
Both the workers with the City of Palo Alto and the third-party contractors commented on the ease of installation of the HDPE provided by Performance Pipe. Because of this, and the willingness of Performance Pipe and their manufacturers to work with the city on overcoming design obstacles, the city plans to completely replace future water systems rather than connect to existing service lines made of other materials.