Chevron Phillips Chemical (CPChem) issued today an updated Climate Risk Report that outlines the company's planned approach to managing climate-related risks, technology investments and actions to reduce greenhouse gas emissions intensity and navigate the energy transition. CPChem announced a target to reduce carbon intensity of its operations by 15% by 2030 against a 2020 baseline.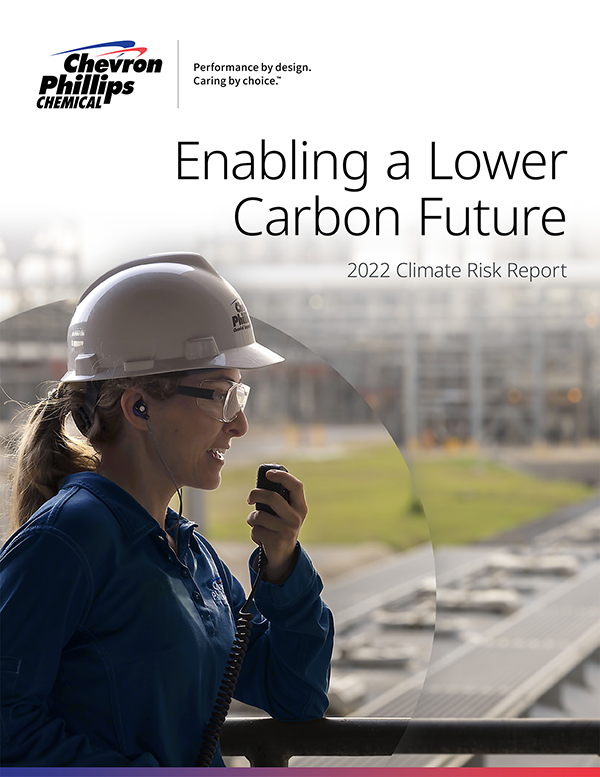 "At CPChem, we recognize that climate change is a global issue that will take action from all segments of society. As a global chemical company that requires large amounts of energy to power its operations, we aim to be part of global climate action by reducing the intensity of our carbon footprint and promoting circularity in our products." says Benny Mermans, VP Sustainability.
CPChem's operated carbon intensity is defined as the total greenhouse gas emissions from operated assets, direct emissions and indirect emissions associated with imported electricity and steam, per metric ton of production from the assets included. 
It is expected that our success in achieving our targets will rely on a combination of projects at our facilities, the purchasing and deployment of electricity from renewable sources and the start-up of lower emissions intensive assets. 
CPChem's target was developed through a diligent review of the technologies and opportunities that are reasonably expected to be available to the company between now and 2030.
To read more about the Climate Risk Report, click here.
 
###
Forward-Looking Statements
Certain statements in this document are forward-looking statements that are subject to risks and uncertainties. These statements are not guarantees of future performance or programs. The actual development, implementation or continuation of any program, policy, initiative, target or related activity discussed in this report, may differ materially in the future. Words or phrases such as "plans", "aims", "may", "could", "seeks", "targets", "strategies", "opportunities", "pursues", "will" and similar expressions are intended to identify forward-looking statements. These statements are not guarantees of future performance and actual outcomes and results may differ, perhaps materially, from what is expressed herein. Analyses and forward-looking statements relating to the operations of Chevron Phillips Chemical are based on management's expectations, estimates and projections, their interests and the chemical industry in general on the date this report was prepared. Actual results could differ materially, based on a number of uncertainties, factors and risks (collectively, "the Risks"), many of which are outside the control of Chevron Phillips Chemical and its affiliates, employees, directors, or officers. Recipients of this information are cautioned not to rely on these forward-looking statements. Chevron Phillips Chemical undertakes no obligation to update or revise any forward-looking statement, whether as a result of new information, future events, or otherwise. 
Many of the standards, metrics and frameworks used in preparing this report continue to evolve. Changes to such standards, metrics and frameworks could cause results to differ, perhaps materially from those indicated in this report. The statements of intention in this report are relevant only as of the date of publication of this report and CPChem undertakes no obligation to update these statements.
The scenario analyses summarized in this report are also based upon various assumptions regarding uncertain future factors and events and leverage information from third parties, such as, the Internal Energy Agency, Intergovernmental Panel on Climate Change and Bloomberg New Energy Finance. Scenarios referenced and their outcomes, relating to the operations of Chevron Phillips Chemical are based on third party data and scenarios (and the assumptions upon which such third party data and analyses are based) which may be of limited availability and uncertain quality on the date the analyses were conducted. CPChem makes no representation or warranty as to the third party information contained within these scenarios. These analyses and outcomes are not guarantees of future performance, are not necessarily indicative of CPChem's views and the actual results may differ, perhaps materially, from what is expressed herein.